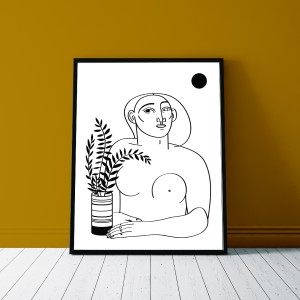 Woman with a pot
Silkscreen

Collection: From the darkness the fireflies will flow

Dimensions: 30cm x 40cm

Munken Print Cream 300g paper

Published in 20 copies

Numbered and signed by the artist

Handmade

Sold without the frame

---

Patience, patience...
This enigmatic woman is slowly emerging, but there's no rush anymore.
I had never represented faces like this before or even drawn ornamented pots.
One eye comes out black and the other white.
I don't know it yet, but this contrast will mark all the projects that will follow.
The line is simple and is straight to the point.
I let myself be guided by this approach, because I feel that something was in gestation.
It seems to me then that the solitude of confinement will probably bring beautiful things as well. Time for oneself, to observe the world from a new angle, to devote oneself to what is important to us without having to hurry.
©Copyright Sarah Nyangué 2020