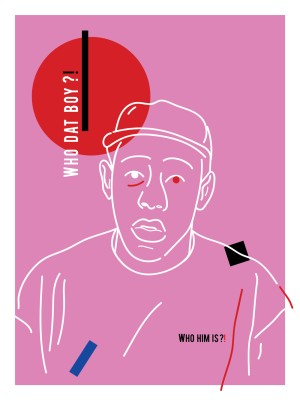 Tyler, The Creator
"Who dat boy"
Illustration printed on satin paper 200g
Dimensions: 29.7cm x 42cm (A3)
Sold without the frame
---
Tyler Okonma, better known by the nickname "Tyler, The Creator" is a Californian rapper whose style can flirt with soul, hip-hop, funk or even pop.
The artist, endowed with limitless creativity, is a real jack-of-all-trades and seems to possess a very particular aesthetic research. We can find him behind a musical production, a collection of clothes, or even in the cinema with the production of an animated sitcom for adults. Nothing is less certain, Tyler excels in the art of disconcerting us.
Copyright Sarah Nyangué 2020