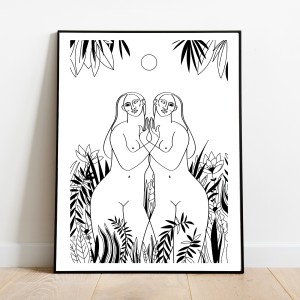 Two women
Silkscreen printing

Collection : From the darkness the fireflies will flow

Dimensions: 50cm x 70cm

Munken Print Cream Paper 300g

Published in 20 copies

Numbered and signed by the artist

Handmade

Sold without the frame

---
"Knotted to each other.
In the morning, there was only the dream was left in memory.
The one who carries within him the mysteries of ancient myths.
It had rained last night and the trees seemed to radiate a strange light.
It was the beginning of a spring that promised to be without flavor, and yet, yet, in the middle of this lush forest, there they were.
Dressed in pride, tied to each other.
In a blink of an eye, I awakened. "
Copyright Sarah Nyangué 2020