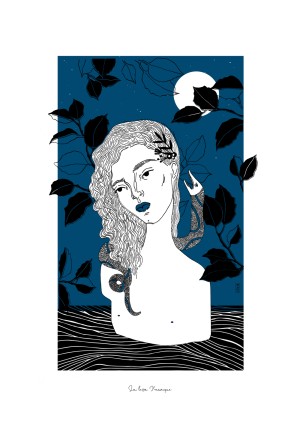 The karmic lesson
Silkscreen printing

Collection : L'impulsion vive

Dimensions: 29.7cm x 42cm

Printed on white art paper 250g

Published in 20 copies

Numbered and signed by the artist

Handmade

Sold without the frame
---
"L'impulsion vive" is a series of five drawings of busts of women sometimes placed on the ground, sometimes buried or submerged ... They are inspired by everyday life, archetypal and ancestral cultural transmissions, life lessons that cross and jostle us.
The "karmic lesson" revisits the inexhaustible theme of "Eve with the snake".
Here, it is thus a question of knowing how to draw our lessons from the past...
Copyright Sarah Nyangué 2020