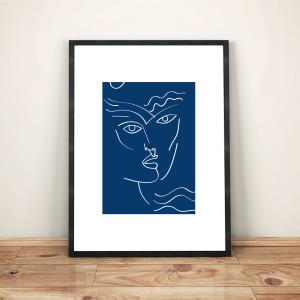 The blue skin - I
Silkscreen printing

Collection : Some of them had blue skin

Dimensions: 29.7cm x 42cm

Printed on white art paper 250g

Published in 13 copies

Numbered and signed by the artist

Handmade

Sold without the frame
---
At the beginning: A blue rectangle on a white background. White lines join in places. An enigmatic face gradually takes shape and seems to split into two faces with scrutinizing faces.
Then, a circular shape at the top left seems to evoke a piece of sun.
At the bottom right, three lines that undulate like waves intrude.
In my opinion, this series retraces the enigmatic male that we discover dreamy, pensive, feverish, defiant or sometimes ardent. Those who had blue skin transported us, once upon a time, to other places.
Copyright Sarah Nyangué 2020