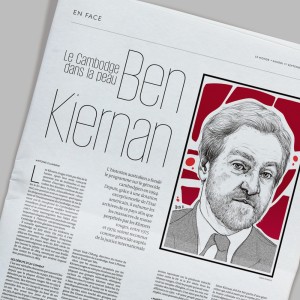 Ben Kiernan
Le Monde Idée - Press illustration
"Ben Kiernan, Cambodia in the skin."
The Australian historian founded the program on the Cambodian genocide in 1994. Since then, thanks to an exceptional endowment from the American State, he unearths the archives of this country so that the mass killings perpetrated by the Khmer Rouge, between 1975 and 1979, be recognized as genocide by international justice.
Excerpt :
The Khmer Rouge continued to haunt him. After having devoted forty years of research and a dozen books to them, the Australian historian Ben Kiernan continues to wear steel in the wounds, tirelessly. "For me, one question remains unanswered: how did the Khmer Rouge leaders see the land and environment of Cambodia, and how did they turn Cambodians into forced laborers to change the environment and focus on a agricultural economy? This question will be the subject of an important chapter in his next book devoted to the environmental history of Cambodia from the Ice Age to the present day.
He also works on the violence in Cambodia in the 19th century. At the end of 2017, he visited the French colonial archives in Aix-en-Provence. Immersed in the boxes containing rare texts from the 19th century in the Cambodian language, this Khmer speaker ended up finding the nugget: a writing on a sheet of rice, dating from 1884, announcing a rebellion against the French who had imposed their protectorate in 1863.
©Copyright Sarah Nyangué 2020